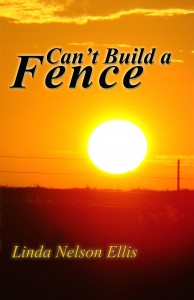 Fences are everywhere—picket, hurricane, stone, wooden, log, and the sturdy barbed wire that stretches for miles. They are along property lines and divide pastures into orderly grazing areas for livestock.
My recently released book, Can't Build a Fence, was inspired by just such barbed wire and a conversation about a cow.
My husband and I were driving around our pasture checking fences one day when he noticed a cow we named Walk-thru. That old critter could go where she wanted to—a fence didn't deter her. He nodded toward her and smiled.
"I can't build a fence that'll keep her. I can build a fence that will cut her up, but I can't build a fence that will keep her."
I laughed and said, "There's a country song in there somewhere."
The phrase about the fence stuck with me and after his death, it came to the front of my thoughts as if on those three by five note cards. They would pop up from time to time. Somehow, over the next five years, story ideas showed up on those index cards—and I began to write them down.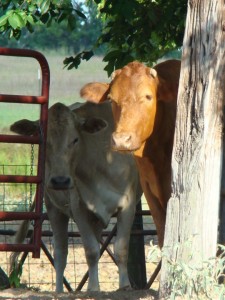 ~ * ~
A city girl meets a cowboy in a country store during a storm. He and his brother drop by with their horses to visit the camp and discover the need for equine therapy to enrich the lives of handicapped children.
Will have to throw in a love story and we're on our way. But wait…there is a turn of events where everything goes sideways.
A tornado tears through shattering the dreams of the young couple. 
Can an old cow, horses, and a cowboy get through the fence built by a stubborn girl? Can you build a fence around love?
~ * ~
With the encouragement of my family, the East Texas Writers Guild, and my critique group, the Writing Warriors, the story took shape. Dancing With Bear Publishing with Marie McGaha, stepped forward to do all the hard work of publishing my book.
And for the cards that pop up in my head—there are more. Do I see a sequel among them? Yes—I can see it now…Cutting the Fence. This card says something about a red haired girl with a secret in her past and that one has a soldier with PTSD written on it. 
While we're waiting on another card, Can't Build a Fence can be purchased at http://www.dancingwithbearpublishing.com/bookshelf.htm or Amazon.com.
Here is the trailer created for my book on YouTube by DWB for your enjoyment.
Gotta go—there's another index card coming into view.