We bought one of those stick horses for a friend's little girl the other day. It had the stuffed horse head covered in soft, furry like material on a fabric covered 'stick' of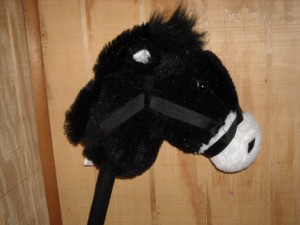 about four feet. There's a button, when pushed, emits a neighing horse sound accompanied by hoof beats. Her expressive face and smile led us to believe we had won the unusual gift award.
Wrong answer. She rode around for a short trot, pushed the button and listened to the sounds a couple of times; then laid it down and went in the other room. I looked at that short stick with the over-sized horse head and thought about the stick horses that my sister and I had when we were young.
Our 'horses' were old mop or broom handles. Some came with a hole in the end to hang them on a nail while not in use. Baler twine or string was threaded through the opening and tied off to form reins. If the stick didn't have a hole, our Uncle Bert would hammer two short nails to provide a place for the twine reins.
To a grown-up, they appeared to be plain, brown handles with a twine loop. We saw them with the clear eye of a child. Mine was a raging, black stallion. Judy's was a sorrel with a blaze face, four white stockings, and a flowing mane and tail. My horse could run like the wind and won every race against the sorrel. The fact that Judy was younger and had shorter legs had nothing to do with the outcome.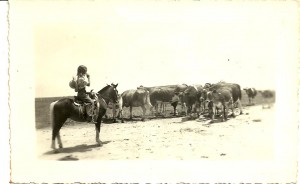 We would tie them to the fence at night and pull grass to place in front of them. They had to keep up their strength for the next hard ride.
There were many animals on our dairy farm. We spent hours in the saddles on our 'real' horses that our family had. Our uncle would sometimes set us on the back of one of our Guernsey cows to ride to the barn for the evening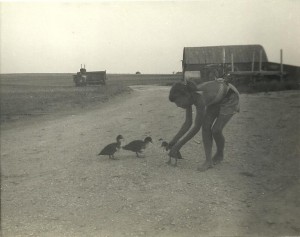 milking. We had bicycles that carried us through the pasture and on the gravel road. We used big shovels to slide down the hill to the barn on those glorious, rare snow days. There were dogs, cats, ducks, chickens, and a white-rock creek to explore. Nothing ran on batteries—only imagination.
I think about that short stick with the over-sized horse head and I am so happy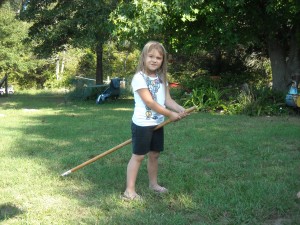 to have had those plain, wooden handles with the twine reins. We didn't need the clopping and the neighing—we provided that ourselves. There are so many delightful, noisy toys for children these days that become useless lumps when the batteries die. I think it's time to give my Grandchildren a 'real' stick-horse. I want to share the joy that imagination brings.