The dog made me do it — go green that is. I re-cycle and replace with energy saving bulbs and buy energy star appliances — but I'm not going to be nominated for any awards. There are plenty of tips and publicity about conserving, re-using, and being a good Shepard of our earth. Speaking of Shepard, we have a Collie dog that after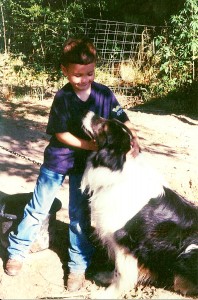 several years of being penned, was allowed to run free. He dug several holes in the yard, and we tried the many 'remedies' that are available. None worked. I came home one day to discover half of one of my flowerbeds had been excavated. It had started as a spot to hold a few Irises. Some Daffodils, Tiger Lilies, and a couple of Crinum Lilies brought from the old home place were added to the Irises. They stood in their little spot without fan-fare; didn't need much attention. They just bloomed and multiplied.
Half of the bed was destroyed. The dirt was scattered and the flowers and leaves shredded. Had it not been for the bulbs, it would have been a total loss. After replacing the dirt and bulbs, an obstacle fence consisting of buckets and screens kept the flowers safe from the canine. It was quite unsightly; we needed a better fence.
My sister suggested a picket fence. We had moved the frame house to the middle of the cow pasture near two old trees. The entire house was covered with metal after two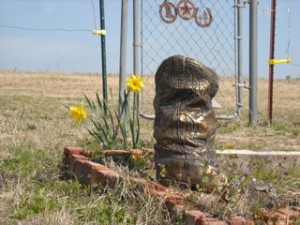 rooms were added. With the 'Texas star' furniture on the porch; the yard accented with a few old metal farm objects, old water well pulleys, and a cowboy boot planter — some how the idea of picket fencing didn't match our 'style.' I tried a little pre-made metal fence, only to discover the dog, Bo, nestled in the newly dug dirt and bulbs. Once more I replaced the dirt and bulbs and started trying to find a suitable barrier. I was leaning toward blocks and landscape timbers, but while rummaging through the little trailer we had parked at the front of the house, I came upon the perfect idea.
We had been in a long process of replacing the barbed wire fence at the front of our property. As old fencing is taken down, it is rolled into loose loops of varying sizes depending on the one doing the rolling. I pulled several of those loops from the trailer and lined them up against it, overlapping them about half way. Standing there, looking at the row of loops and envisioning them in the yard around the flowers, I found my fence.
Going to our pile of old posts from the fence, I searched for posts with "character." These had to have flaws or knots to add another rustic note to the fence. Checking to make sure they were all bug free, I cut them shorter and dug my holes. I only wanted about forty inches of post above ground. I put one in upside down; it looked better that way.
Now it was time to add the loops. There were some that were perfect — just the right size. I had to redo some. Unrolling the wire, I carefully formed a new roll working it into the size I preferred. Making each roll about ten loops made them more uniform. Twisting the loose ends with pliers or adding a piece of rusty wire to hold it together secured each roll. Another wire around the bottom would keep them from protruding and give a better appearance. That's the fun part of this fence. No trips to town to buy shiny new anything. Old nails, fence staples and rusty baling wire were used.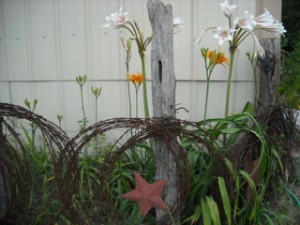 I over-lapped each roll about halfway and started tying them to each other and the posts. Staples or nails were used on the posts to hold the wire in place. When I got to the last one, it was close to an out-door water faucet. Knowing better than to put barbed wire close to a frequently visited spot, I used a roll of rusty clothes' line wire from the old home place. It is unnoticeable that it is different, and there won't be complaints from my family about getting caught with barbs.
Wow, was I proud of myself. The fence looked good and I thought impregnable. I forgot the fact that if Bo could get his pointed nose through something, he would go where the nose led. I went out the next morning to admire my handi-work. There was that black and white ball of fur lying in torn up dirt and bulbs, behind my wonderful fence. Okay, so it wasn't finished yet.
Start over. Take down wonderful fence, replace dirt, replace bulbs, and add chicken wire that we already had, then put the rolls back in place. Not exactly what I wanted, but the chicken wire is almost invisible behind the overlapped loops and it keeps the 'nose' out.
There was a star on the house above the flowerbed. We had another big star that was to have been hung elsewhere on the house. I attached it to one of the posts to tie the area together. In keeping with the re-cycle theme, I cut stars out of old tin and hung them in the loops. My sister had some 'store bought' stars and these were suspended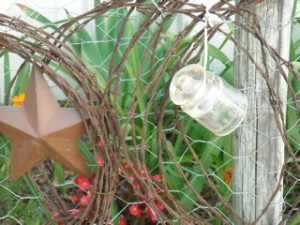 at varying levels. I salvaged some rusty little bells on short chains from a broken wind chime. These too, would find a new life hanging randomly throughout the new fence. Two old, glass insulators we found on the farm from the Co-Op power line were added to finish the "Texas-rustic" look. The bulbs started producing new leaves. To fill the space, I planted some dark red Begonias and orange Marigolds and spread cedar mulch in the bed.
This had been a low maintenance corner of the yard that required a bit of work to salvage. It has turned into one of my favorite spots and the only cost came from the Marigolds and cedar mulch, about $10.00 total. Everything else that was added was a throw away item or not being used. The fencing, posts, nails, and rusty wire were re-cycled and will not be going to a landfill.
There is a truce with Bo; he has his doghouse and some holes that he can call his own. I have a new eye for re-cycling and paying more attention to the going green idea.